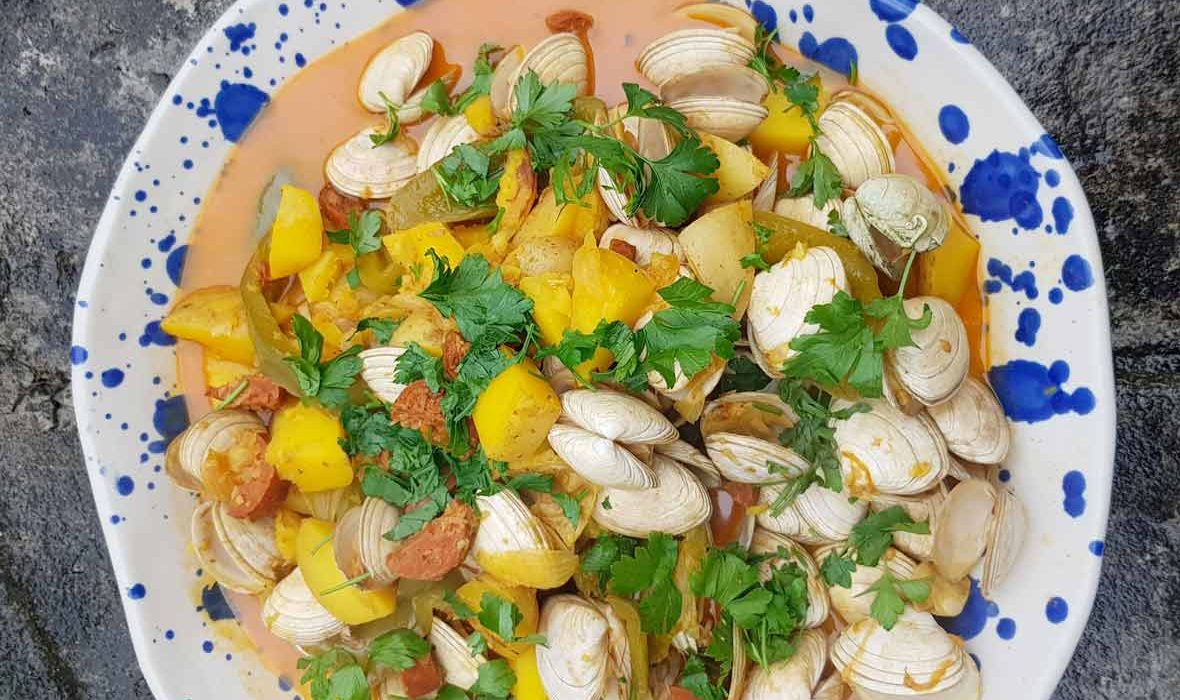 Ingredients
One large spanish onion, sliced thinly
6 medium sized waxy spuds (the spuds must be waxy or they will fall apart), cleaned and cubed
2 green peppers (if you have padron peppers I would have about 5 per person in the pot)
One bag of clams (or whatever ye're having)
5 cloves of good garlic
Half a bottle of cheap white wine (the other half will be chilled and for the cook, naturally
Half a spicy chorizo ring
1 tablespoon of hot paprika
Fresh flat parsley
One very generous pinch of saffron
25 g of butter
One cube of stock
Finishing salt to taste
Method
I use a crock pot for this as the lid is so heavy that the steam doesn't escape and it seems to cook the spuds quicker. But any large pot with a lid will do. 
Put a good dollop of olive oil, add your sliced onion and let them cook until they are soft and translucid. You can then add cubed spuds, your peppers (whole if you're using padrons and sliced if you're using the big ones), the sliced chorizo and pour the stock over until the spuds are covered. Then add the wine and finally add the saffron and paprika to the liquid. Cover and let it cook on low to medium heat, until the spuds are done this took about 30 min for me). You do need to keep checking to see whether it needs a bit more liquid. Add a bit of water if require and if the liquid is not reducing do let it cook on medium heat without the lid. 
While this is going on, give your clams a good cold bath and rinse the water once or twice. When you're happy that no sand is pooling at the bottom of the bowl, you can get ready to cook them. You will also be grating your garlic at this stage.
The last bit happens quickly so you need to be ready. When your spuds are cooked, add the butter and garlic and mix it in the sauce until it's all melted. Taste and season.
At this stage you are ready to add your clams. Drop them in gently and toss them in with the rest. Replace the lid on top and cook on high heat for no more than 5 minutes. 
Once it's all done, pour the clams and veggies on a plater and drizzle the sauce on top. Garnish with the flat parsley. 
NOTE: if after cooking a clam remains shut, PLEASE DO NOT EAT IT. 
See original recipe at Proper Food
*Image from Proper Food