A Story of Three Generations
Our tours take 1 hour 15 minutes and run in all weather conditions except hurricanes!!
Explore
You'll take a guided walk down to the rugged seashore to see our family oyster beds. You'll hear first-hand how the oyster has played an important role in the lives of the Galway Bay community, for thousands of years.
See
We'll show you exactly how we farm our oysters, according to our family's age-old tradition combined with the best of modern, new technology.
Experience
Learn how to expertly open and shuck an oyster, so you get the most of the incredible taste sensation.
Taste
Enjoy the delicious taste of Kelly Oysters, with oysters plucked straight from our waters. The freshest oyster you'll ever have, with the sounds and atmosphere of our unique environment completing your experience.
Good to know!
Following Government Public Health advice, and to offer visitors the best possible experience, we are limiting the numbers to 12 people per tour.
While you're visiting us, be sure to factor in an excursion to soak up the life, lights, arts and culture of Galway City. Some of Ireland's best restaurants, excellent shopping and world-class entertainment are just 20km away.
Visit Morans, Galway www.moransoystercottage.com or Monks, Ballyvaughan www.monks.ie serving Kelly Oysters, Mussels and Clams all year round.

Private Tours
Private Tour for Individual travellers can be arranged but will incur the minimum charge of €200 please email us well in advance to arrange a visit. Kelly Oysters are happy to welcome oyster fans and enthusiasts to the farm but please remember that as a working oyster farm we schedule tours around the routines of the tides and employees.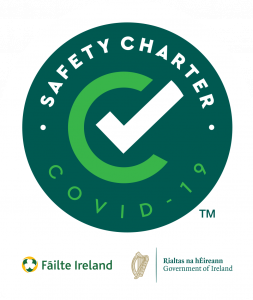 The Small Print
A minimum of 5 people are needed to run the tour (your booking does not need to have 5 people, but the overall tour must have a minimum 5 in order to run).
If there is low demand on the day, the tour may be cancelled 24hrs before the scheduled departure.
The maximum size of each tour is 12 people.
Cancellations with full refund can be made up to 48hrs in advance of tour commencing.
No refunds available for bookings not cancelled 48hrs in advance.