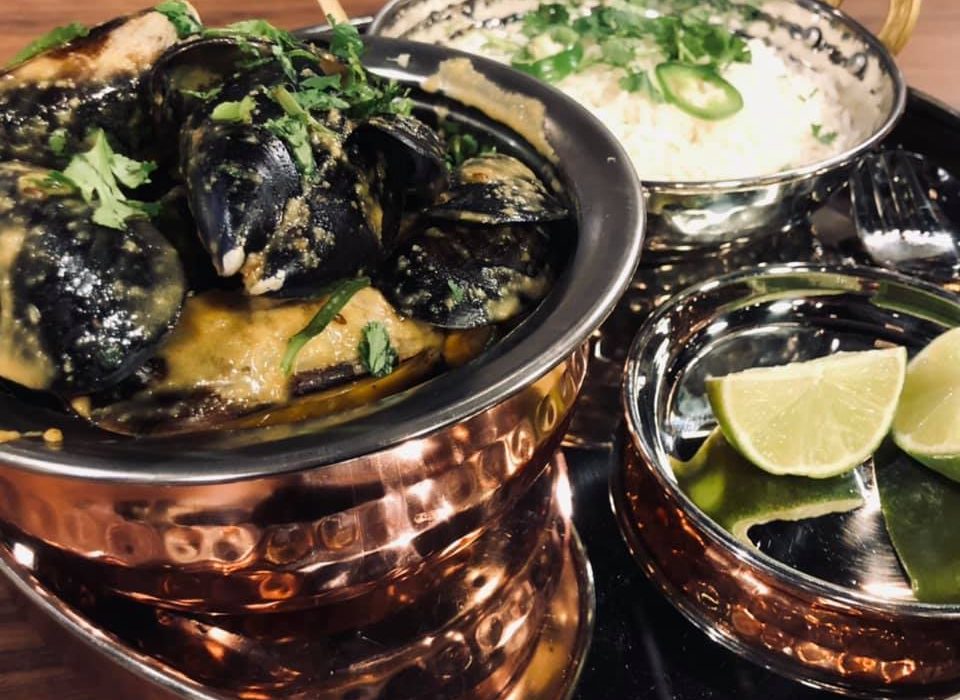 These juicy Spicy Coconut Mussels are quickly cooked in coconut milk and flavourful Indian spices. Dinner doesn't get any easier than this delicious recipe
Ingredients:
3 tbsp vegetable oil
1 small onion, finely chopped
2-4 green chillies, whole (add more depending on spice level)
thumb-sized piece fresh ginger, peeled and pounded into a paste in a pestle and mortar
4 garlic cloves, peeled and pounded into a paste in a pestle and mortar
salt, to taste
½ tsp ground turmeric
1 tbsp garam masala
3 tomatoes, chopped into large cubes
1kg/2¼lb mussels, scrubbed and de-bearded
tin coconut cream / milk
handful fresh coriander leaves and stalks, chopped
Method:
1. Heat the vegetable oil in a medium non-stick pan and fry the onion until golden brown.
2. Add the chillies, ginger and garlic pastes, salt, turmeric, garam masala and tomatoes and cook until the tomatoes have softened and start to break down.
3. Meanwhile, cook the mussels in a large pot of boiling water for about three minutes, until they have opened. Remove them with a slotted spoon and set aside. Reserve the water.
4. Add the coconut cream, coriander and a splash of the cooking water to the spices and tomatoes and stir. The spice mixture should be thick enough to coat the mussels and enter the shells.
5. Remove some of the mussels from their shells and leave others in their shells, for a dramatic and appetising effect. Add the mussels to the spice mixture and stir thoroughly.
6. Serve in a bowl with Rice lots of the broth and good bread on the side.