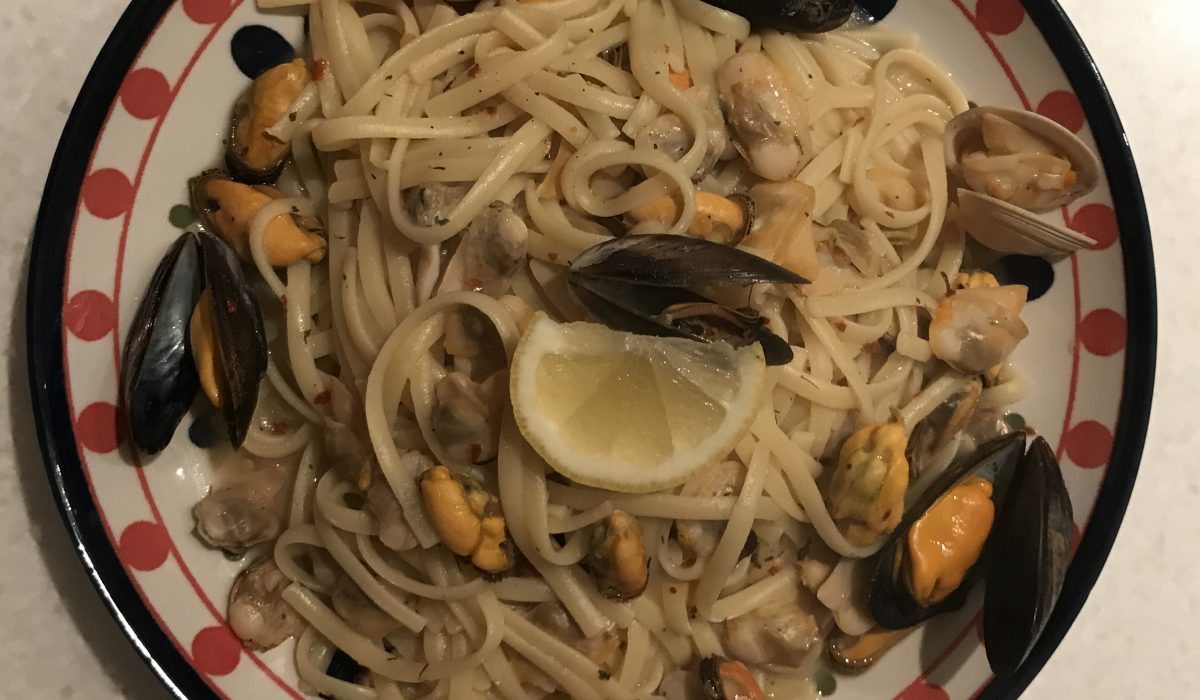 Preparation time: 20 minutes. Cooking time 12 minutes
Serves 2 – 3 (depending on how hungry ye are)
Warm the serving bowls in the oven.
Preparation time: 20 minutes. Cooking time 12 minute
This dish is absolutely delicious, yet remarkably simple. The recipe is based on an original by Neven Maguire* but, after trying his, I added mussels for colour and variety. Also he left some clams in their shells. This method of cooking allows the dry pasta to soak up much of the shellfish liquor, enhancing the already rich flavours of the dish.
Ingredients
75ml of olive oil
1 kg fresh clams
0.5 kg fresh mussels
200g dried spaghetti
1 garlic clove chopped or crushed (use more if you like)
A good pinch of chilli flakes
1 teaspoon of chopped parsley
salt and pepper as required
grated cheese of choice and basil leaves for garnish
Method
TIP: Ideally, bring a large heavy-bottomed pan to the shop and place the shellfish in it immediately to prevent them opening and spilling their liquor all over your bag or the floor of your car.
If the clams have not been pre-washed, wash them thoroughly under running cold water to remove any sand. Beard your mussels and shake your shellfish – reject any that remain open. You can beard the mussels after they have been cooked; in fact, this is easier.
Heat the olive oil in a heavy-bottomed, lidded, pan over middling heat; sauté the garlic of 20 seconds. Throw in your clams and mussels, cover with a lid so that they steam. Check them after a five minutes; when all the shells are open, remove from heat. Keep the liquor. Allow to cool.
Remove the shellfish with a slotted spoon and remove the meat from the shells, rejecting any that remain closed.
Boil the spaghetti in salted water until it softens then rinse in cold water to stop it cooking. Transfer spaghetti to the liquor, submerge it adding the chilli and parsley.
When ready to eat, heat the spaghetti and liquor, stirring gently and, when the spaghetti is al dente add the shellfish, stirring gently for a minute or two more.
Garnish and serve immediately. Season to taste. Simple.
*Maguire, Neven. homeChef. London: HarperCollins, 2009. Print p.105.