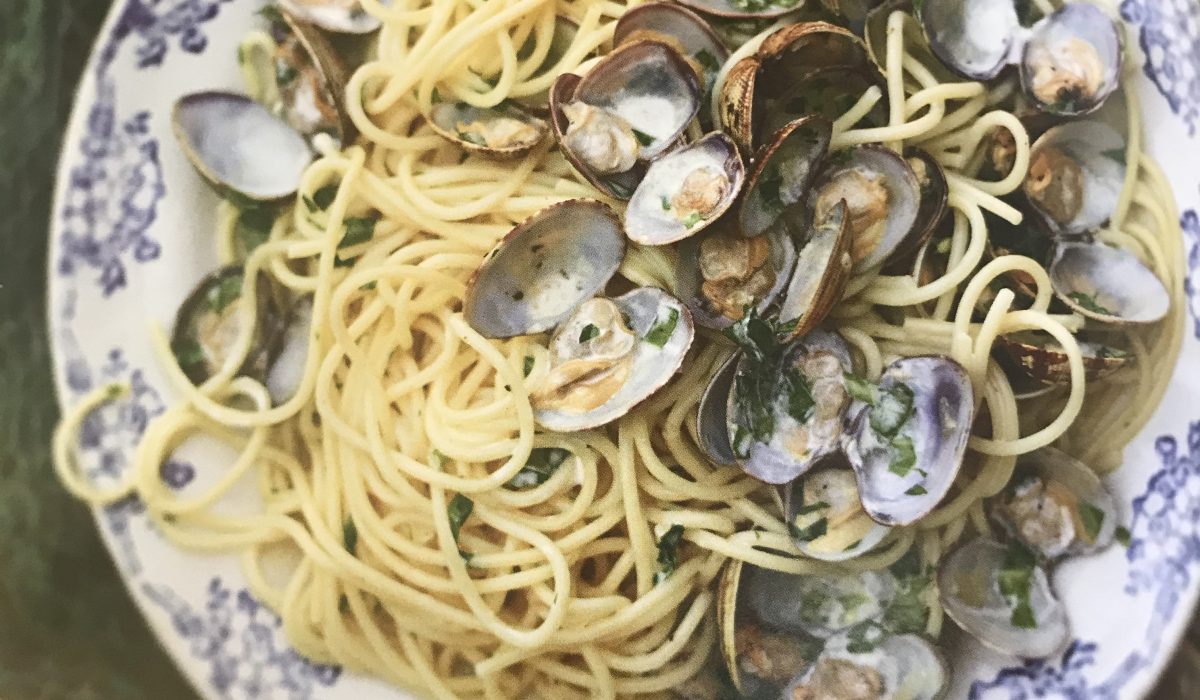 Ingredients
1 generous tsp salt
325g (11½oz) dried spaghetti or 400g (14oz) fresh spaghetti
1kg (2lb 2oz) clams in their shells, well washed and scrubbed – discard any that are not tightly shut or don't close when tapped
60ml (2½fl oz) gin
3 cloves of garlic, peeled and sliced very thinly
160ml (5½fl oz) double cream
4 tblsp chopped wild garlic, plus 2 tbsp to serve
juice of ½ lemon
Method
Place a medium–large saucepan of water on to boil and add the salt. When it comes up to the boil, add the spaghetti, stir and cook for 8 minutes (for dried pasta) or until al dente. Fresh pasta will cook much faster.
Strain the pasta, leaving 50ml (2fl oz) of the cooking water in the pan to prevent the pasta from getting sticky, then return the spaghetti to the pan. Set aside while you cook the clams (or you can cook the clams while the spaghetti is cooking).
Place the clams, gin and sliced garlic in a large wide saucepan on a medium–high heat, cover with a lid and cook for 3–4 minutes until the clams have opened. Using tongs or a slotted spoon, pick out the clams and drop them into the spaghetti. Discard any clams that remain closed.
Add the cream to the sliced garlic and gin and boil for 1–2 minutes until slightly thickened (not too thick or you'll need to add a splash of water), then add the wild garlic and lemon juice.
Tip the spaghetti and clams into the sauce, stir over the heat for a few seconds, then serve with extra wild garlic sprinkled over the top.
This recipe is from Rachel's book COAST where recipes are inspired by Ireland's Wild Atlantic Coast. We were delighted to feature in the book COAST and also on the RTE show "Rachels's Coastal Cooking" during the summer of 2015.
Rachel Allen used Gigas Oysters in this recipe when she called to visit here and she cooked for us on the wall at Killeenaran Pier. Wonderful memories!