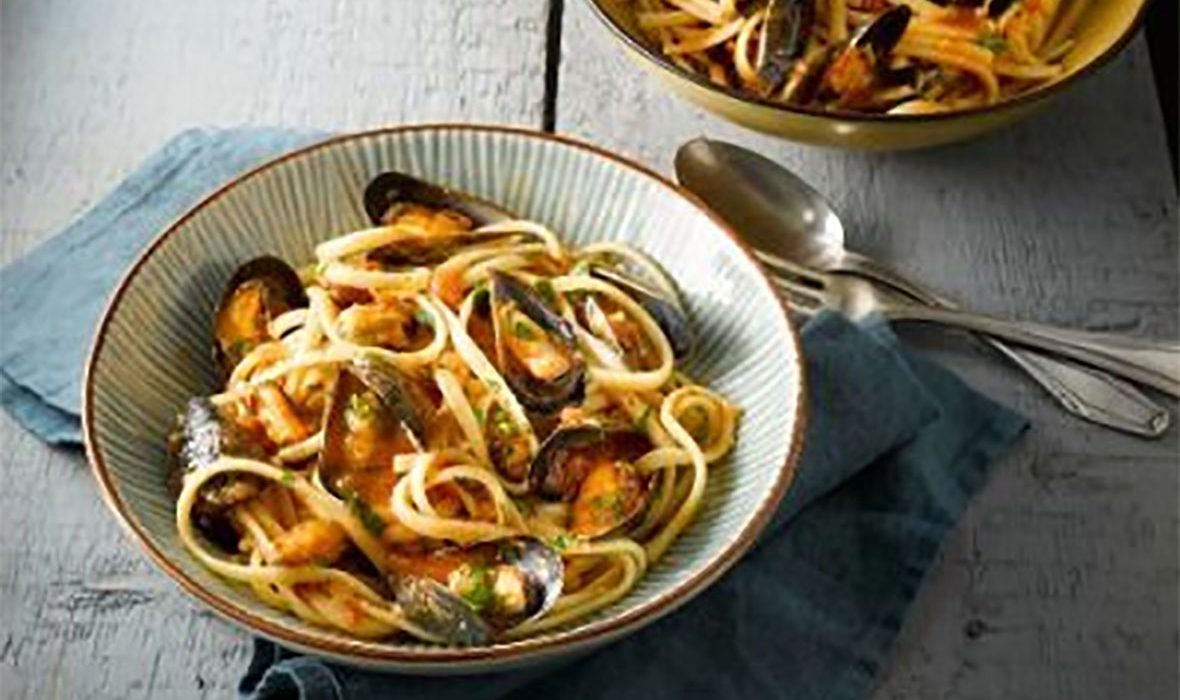 Serves: 4 people
Ingredients
1 kg mussels
1 tablesp olive oil
2 shallots, peeled and finely diced
2 garlic cloves, peeled and crushed
1 x 400g tin of chopped tomatoes
Pinch of chilli flakes
300g linguine
2 tablesp. chopped flat leaf parsley
Salt and freshly ground black pepper
Method
Place the mussels in a large bowl of cold water.  Use a small knife to remove any barnacles and pull away the beard. Discard any mussels that are damaged or won't close when tapped.
Heat the olive oil in a large saucepan on a medium heat.  Add the shallots, garlic, chilli flakes and cook for 2-3 minutes. They should soften but not brown. Then add the tomatoes and simmer for ten minutes. Taste and season with black pepper and a little salt.  and bubbling. 
Cook the linguine in a large pot of salted boiling water according to the packet instructions. While the pasta is cooking add the prepared mussels to the tomato sauce. 
Allow the mussels to cook for 3-4 minutes, shaking the pan from time to time to ensure they cook evenly. Discard any that have not opened.
When the pasta is cooked, drain, saving a couple of tablespoons of the cooking liquid.  Return the pasta to the saucepan it was cooked in along with the reserved cooking liquid.  Pour the mussels and tomato sauce on top of the pasta and mix well.
Return the saucepan to a low heat for a couple of minutes to heat through. Drizzle over some olive oil and sprinkle with the chopped parsley. Serve with a green salad.