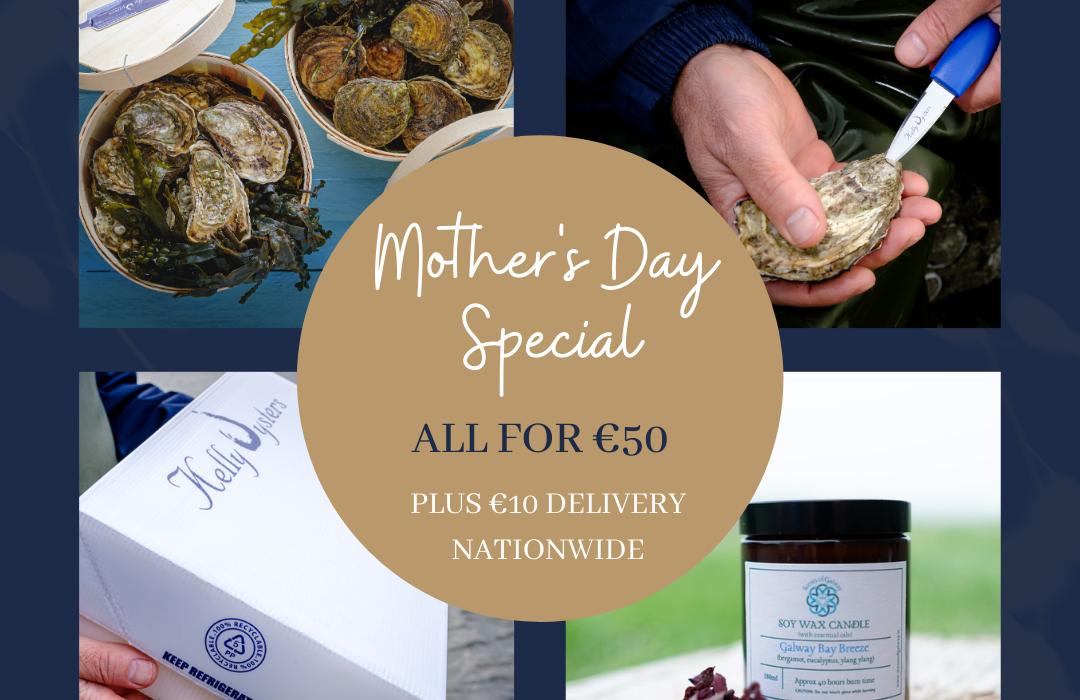 ? Treat your Mother to a taste of Galway Bay with a difference this Mother's Day ?
We are delighted to collaborate with Anna Brown of "Scents of Galway" to bring you a very special package to celebrate Mother's Day.
Our limited edition
"

Mother's Day Special

" 
includes:
12 x  Wild Native Flat Oysters
12 x  Hand-Harvested Gigas Oysters
1 x
Galway Bay Breeze Soy Wax Candle
1 x
 Specialist Kelly Oyster Knife
This limited edition has been created to not only bring you a taste of Galway Bay Oysters but also includes an oyster knife and a "Galway Bay Breeze" candle.
This fabulous soya wax candle has a fresh, cleansing scent reminiscent of the wild Atlantic winds that blow through Galway Bay.
So now you can enjoy both the taste and smell of Galway Bay.
Shop online : https://kellyoysters.com/shop/
??? Now taking orders for your Mother's Day Oysters ???
Click & Collect is still available for Mother's Day orders
Unfortunately orders for delivery by courier are now closed
Important Dates to note for deliveries:
Last day for dispatch with courier before Mother's Day is Wed 10th March
Delivery will be on Thurs 11th/Fri 12th
Orders for delivery by courier will be accepted up to : Monday 8th March @ 10am
The next courier shipments after this date will be dispatched on Monday 15th
For storage information see Tips for Storing Your Shellfish at Home 
Click & Collect will be available up to and including Saturday 13th Mar
To avoid disappointment place your order for courier delivery as early as possible Shop Online here
❤️❤️❤️ Local Fishmongers ❤️❤️❤️
Remember to share the love and check availability with your local fishmongers.
Kelly Oysters supply to many fish shops throughout Ireland. See below a list of some of our partners in the fish business:
Galway
Galway Bay Seafoods, Galway Docks
Mary's Fish, Monivea Road
Ali's Fishmarket, Henry St & Barna
Moycullen Seafoods, Moycullen
Dublin
Clare
Limerick
Seabreeze Seafoods, Upper William St, Limerick
Wexford
Atlantis Seafoods, Rosslare Rd, Wexford